Hot summer days can make life miserable, especially when your air conditioner isn't working. Don't let malfunctions with your air conditioning keep you from being comfortable when the mercury rises this summer—contact Mike O'Brien Heating Cooling & Plumbing Inc. In addition to our full range of other HVAC and plumbing services, our professionals also perform air conditioning services for area residents and business owners. Putting our 30+ years of combined experience to work for you, our team can help ensure you get the quality A/C repair you need. So forget about suffering and sweating this summer: Call the air conditioning contractors at Mike O'Brien Heating Cooling & Plumbing for complete air conditioning repair service today.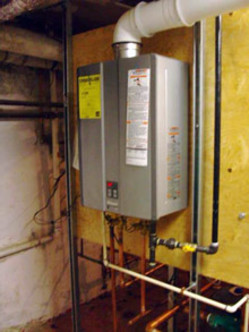 Purchasing a new air conditioner can be downright expensive. That's why we recommend you give us a call instead of running out to the store when your A/C starts to act up. Our expert air conditioner repair service can save you hundreds, even thousands, of dollars over buying a new central air conditioning unit. Mike O'Brien Heating Cooling & Plumbing will thoroughly evaluate the nature of your A/C's problem, diagnose the cause of the issue, and then provide you with complete, correct air conditioner repair. We take the time to do the job right, but we also work efficiently to ensure you get the most affordable service around. In fact, our professional air conditioning contractors pride themselves on being able to provide our customers with truly cost-effective central air conditioning repairs!
At Mike O'Brien Heating Cooling & Plumbing Inc., we're equipped with the tools and technical know-how to repair air conditioning systems of all types, from a wide variety of brands. We specialize in air conditioning service for:
Central air conditioning units
Residential air conditioners
Rooftop commercial systems
And others
Our company has been in business for over 30 years, and in that time, our air conditioning service has seen it all—we're up to the challenge of fixing practically any malfunction with your air conditioner. Call us when your air conditioner:
Won't turn on
Isn't circulating air
Cycles on and off constantly
Doesn't produce cold enough air
Is making strange noises
Or is malfunctioning in any other way
We'll troubleshoot the problem and provide you with the air conditioning repair service you can rely on to keep your A/C running far into the future. We're even available to perform air conditioning installation and replacement at both residential and commercial locations.
On top of our quality air conditioner repairs, Mike O'Brien Heating Cooling & Plumbing Inc. also offers exceptional customer service. From our one-year workmanship warranty to emergency service availability, we're dedicated to caring for our customers as well as their air conditioning units. If you're in need of air conditioning repair service at a price you can afford, Mike O'Brien Heating Cooling & Plumbing is here to serve you. Contact us by phone or e-mail to learn more today.