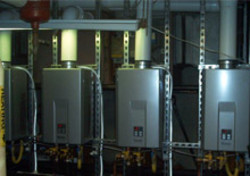 Heat pumps are a popular HVAC choice because they can be used in place of air conditioners and furnaces to both cool and heat, but even the most reliable heat pump can occasionally need professional attention. Whether you're in the market for heat pump repair for your current system or interested in installing a heat pump for your temperature control needs, you've come to the right place! Offering so much more than just basic plumbing services, the team at Mike O'Brien Heating Cooling & Plumbing Inc. is able to provide both heat pump system installation and repair services for businesses and residences. We work with a variety of brands, including Lennox heat pumps, Trane heat pumps, and others, for your convenience. Our technicians have more than 30 years of direct field experience and are committed to bringing every customer the finest craftsmanship and most advanced technologies available. If you're located in the Capital Region and you are in the market for heat pump service, feel free to call or e-mail us to learn more.
Heat Pump Repair
When you call our technicians for heat pump repair, we will begin by examining and troubleshooting your unit in order to pinpoint the reason why it is malfunctioning. Once the source of the problem has been identified, we will use our years of extensive training and knowledge to correct the trouble and restore perfect function to your heat pump. Contact Mike O'Brien Heating Cooling & Plumbing if you're experiencing these, or any other troubles, with your heat pump system:
Ineffective heating or cooling
Excessive cycling on and off
Continuous (rather than intermittent) blowing
Disruptive noises
Uneven temperatures
Our highly trained team of heat pump specialists will work to quickly and effectively resolve the problem without causing undue stress on your budget. To learn more about our full range of heat pump repairs, contact us by phone or e-mail.
Heat Pump Installation
If you're interested in heat pump system installation, we will examine your building and establish which size and type you require in order to receive efficient, long-term performance. Whether you're looking for a mini split heat pump or you need repairs for your ductless heat pump, you'll receive impeccable service from a technician who is dedicated to bringing you results you can trust.
Heat pumps work by transference. This means that instead of converting fuel or electricity into heat, these units remove excess heat from the inside of a building in summertime and pump exterior heat into the house in winter. Since heat pumps take existing heat and simply move it to a different location, they do not require lots of energy in order to control the temperature and are therefore one of the most energy-efficient HVAC options around. This means that the initial cost of air heat pump installation can be quickly offset by your savings.
Commercial Heat Pump Repair and Installation
Heat pumps are popular in hotels but can also found in other businesses, such as restaurants, health facilities, etc. Maintaining comfortable temperatures is vital for the success of a commercial space, so if you want a reliable system that won't cost you an arm and a leg in monthly bills, an air heat pump is a smart investment. We offer both heat pump installs and repairs, so we can take care of you no matter what your specific needs. For new installations, you can count on Mike O'Brien Heating Cooling & Plumbing to select the model that will best match your building's particular requirements. Whether you need an electric heat pump or a gas heat pump, you will receive safe installation and effective repairs. We work with business owners of all types, as well as real estate companies and landlords.
Our technicians are proud to do all we can to help citizens and business owners throughout the Albany area and beyond enjoy affordable heating and cooling service. If you've noticed any unusual symptoms from your heat pump, you require maintenance, or you're interested in learning more about the perks of heat pump installation, call or e-mail Mike O'Brien Heating Cooling & Plumbing Inc. today to become our next satisfied customer. We take pride in our work and will stop at nothing to bring you quality results.