No one who lives in Albany is a stranger to cold winter temperatures. But did you know it's just as important to protect your pipes from freezing as it is to keep yourself warm? Frozen pipes aren't just an inconvenience, stopping you from getting the water you need in your building. They can also lead to serious plumbing problems. When water freezes and expands, it can actually burst water pipes, which will result in major trouble when the ice thaws. To avoid frozen water pipes entirely, or to get help with thawing frozen pipes safely and properly, turn to some of the best plumbers in the region by calling Mike O'Brien Heating, Cooling & Plumbing Inc. We're ready to help you and your plumbing get through the winter in one piece.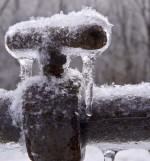 Our comprehensive roster of services includes:
Fixing leaky pipes
Thawing frozen pipes
Preventing frozen pipes
Replacing burst water pipes
Not only do we know how to thaw frozen pipes to avoid further damage to your plumbing, we're also able to keep the pipes from freezing in the first place. Because we're available for emergency service, you can call us at any time to discuss the problems you're having. Frozen pipes need to be dealt with promptly, and we'll make sure there's a plumber in your building as soon as possible.
Burst Water Pipe Experts
Mike O'Brien Heating, Cooling & Plumbing Inc. is one of the most experienced plumbers in and around Albany. We've been in business since 1977, and our current team has more than 30 years of experience on the job. We're also fully licensed and insured. Why would you put your burst water pipe or frozen water pipes in the hands of a less experienced, less knowledgeable plumber? We have the training and skill to get the job done right.
We offer frozen pipe repair and prevention for both residential and commercial properties. We strive to provide high-quality plumbing services at some of the best rates around, and we're happy to offer free estimates for all jobs. If you want to hire a plumber in Albany who is the total package, bringing together quality workmanship, reasonable rates, and a prompt turnaround, don't look anywhere else. Mike O'Brien Heating, Cooling & Plumbing Inc. is standing by to take your call!