Is a clogged drain or a leaking faucet causing you grief? Do you need to install a sink or shower in your new home addition? No matter what your plumbing needs, you can count on the residential plumber team at Mike O'Brien Heating Cooling & Plumbing Inc. to get the job done effectively at a price you can afford.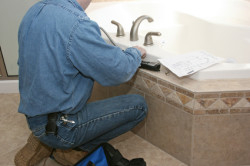 Our residential plumbers have over 30 years of hands-on experience performing all sorts of installations and repairs. Some of our many residential plumbing services include:
Leak detection and repair
Plumbing for new construction and renovations
Pipe repair and replacement
Frozen pipe thawing and repair
Faucet repair
And much more
Whether you need a minor faucet change out or you are combating a major leak, the residential plumbers at Mike O'Brien Heating Cooling & Plumbing will put our extensive knowledge and experience to work for you, ensuring a thorough, affordable solution is implemented. We pride ourselves on the quality of our craftsmanship, and we stand behind all of our work with a full one-year workmanship warranty, so you can trust that our residential plumbing services will keep your home functioning at its best well into the future.
At Mike O'Brien Heating Cooling & Plumbing Inc., your satisfaction is our top concern. Our residential plumber team knows how quickly the costs from leaking or damaged plumbing can add up, so we strive to bring you comprehensive, lasting solutions at some of the lowest prices in town. Whether you need a seal replaced or you are looking to do a full plumbing installation to accommodate your new master bath, you can count on our residential plumbers to bring you high-quality solutions at a low cost.
When it comes to resolving plumbing issues, we know that time is of the essence. That is why the residential plumber technicians at Mike O'Brien Heating Cooling & Plumbing offer evening, weekend, and emergency services, so you can reach us when you need us most. Even a minor faucet leak can quickly escalate if not addressed promptly, and major issues like frozen pipes or clogged drains require immediate attention. So if you're experiencing trouble with your home's plumbing, don't hesitate—contact our residential plumbers today!